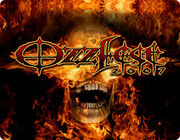 Ozzfest is an annual festival tour of the United States (and in some years, Europe) featuring performances by many heavy metal and hard rock musical groups. It was founded by Ozzy Osbourne[1] and his wife Sharon Osbourne,[2] both of whom also organize each yearly tour with their son Jack Osbourne.[3]The Ozzfest tour has featured bands of a variety of genres within heavy metal and hard rock, including alternative metal, thrash metal, industrial metal,metalcore, hardcore punk, nu metal, death metal, gothic metal and black metal. Ozzy Osbourne and Black Sabbath have played the tour several times over the years.[1]
Ad blocker interference detected!
Wikia is a free-to-use site that makes money from advertising. We have a modified experience for viewers using ad blockers

Wikia is not accessible if you've made further modifications. Remove the custom ad blocker rule(s) and the page will load as expected.